In from Ibiza Shine Leeds proudly present Buckley at FB Event SHINE EASTER SPECIAL ft CE CE ROGERS + MARSHALL JEFFERSON Allister Whitehead, Terry Farley, Buckley - Leeds Warehouse, SUN 27 MAR
Posted by Shine Leeds on

Shine are overjoyed to be welcoming to the team, a Main Room Resident DJ, Sir Buckley Boland himself, the legend of Leeds, whose taken his residency talents far & wide. As far as his Resident roster goes, well let's just say he's been with the unstoppable local brand who have consecutively taken their own endeavors over seas & back again, even back to to their recent turf based of at none other than The Warehouse Leeds, which by the way holds credit to this day still standing in the same bricks & mortar under the same name it unleashed 'WAY BACK IN '79' so with no further ado of unspoken legacies, first off the bat is Back To Basics, Buckley has held his long standing spinning technique's with.




Renaissance also, held Buckley down for quite some time where he went onto rubbing shoulders again with the biggest names in the dance game. So Renaissance which by the way had under it's wing more alliances with Leeds legends, such as the phenomenal, technically brilliant Mr Ian Ossiathen need it be said but the one & only mighty King of Shelley's Laserdome but most certainly a renowned Renaissance legend flying the Leeds flag playing set's alongside Sasha, Dave Seaman himself, formerMixmag editor & creator of Peace & Harmony made at The Hacienda's white label request which became a ground breaker for him pre Top of the Pops's getting himself out there with Such A Good Feeling all under theBrothers in Rhythm duo, until his partner on good terms moved ontoPickering's Deconstruction Records making tracks like the dance-ableKylie Minogue - Can't Get You Out Of My Head mix. Leaving David to move onto seek a career that's been none stop til now, let's say again Brother's Love Dub's - The Mighty Ming epic anthem came from Shelley's with yet more requesting of his highly seeked talent, Dave a creation of Record Label's from Stress Records to his current efforts with Selador see him at a stage what's almost retire-able on royalties alone, given theirBrothers in Rhythm remixes of the biggest artiste worldwide, from Michael Jackson to Eurythmics to Bruce Hornsby & so on...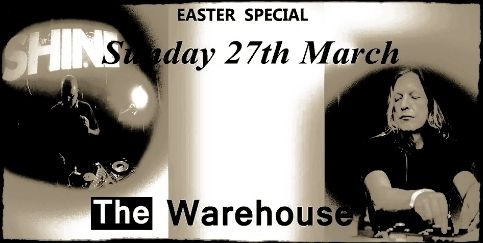 This leave's Shine with huge pleasure having Buckley join the outfit, with his debut appearance as a Resident DJ see's him play a Back To Back, a one & half hour DJ Set from 3.30am until 5am with Shine's world class pride & joy, Garry Dabill, who since teaming up in 2012 with Shine HQ has always worked adapted DJ Set's for his warm up main room slot, only once he get's wind of who the line up is, which from Shine's point of view, have always tried & feel they've achieved this, line up's are attempted to be fresh & different every time to avoid any repetitive flow of that 'same old same old' scenario. To further add Garry the pride at Shine never repeats any track he has ever played at prior events.
So now here come's the clincher, we've told you some of the station's where Buckley has parked his record boxes & shoulders he's rubbed with but only from the brands he's worked for point of view, not his personal as of yet, however what Shine pride themselves on are what actual DJ's Shine can only dream of having. With this forthcoming Easter Sunday event, which has now become an EASTER SPECIAL BIG TIME, pardon the pun but "Shine are Bucking their ideas up"... Since knowledge of D&B (Dabill & Buckley) are hyping this up to be a best Shine fixture yet with their Back To Back.
Well as you're all aware the original Chicago God Father of Acid House, the House Music Anthem pioneer Marshall Jefferson who broke ground in many nation's during 1986 at global status but in 1986/'87 when his Trax Records began to be taken more notice of by a major label called Atlantic Records. Marshall's assistance came from New York's CeCe Rogers (his name received by Soul God Father James Brown) wrote lyric's on his piano for SOMEDAY (the very same sound expected next week at Leeds Warehouse Easter Sunday 2016) anyway these US House creator's made waves and conquered with the only track out of the eighties that's never ever been matched... FACT!!
So whilst on the subject of US House legends, it should be known that Buckley who right now for the past two years has been in Ibiza, which happens to be where FAC 51 The Hacienda held it's 11th Birthday, oh and before one does forget, Buckley even held himself nurtured as a Resident with what's probably the biggest brand in the world, yes Buckley Boland from Leeds was on an unbeatable FAC51 resident by appointment The Haçienda bill over two decades ago for that there said 11th Birthday with who was/is the official global God Father of House, the late Frankie Knuckles from the Def Mix Collective a US brand which he & David Morales both owned (who recently played Shine's FAC51 Christmas 2015 Party) but was billed alongside thee one & only Tony Humphries UK giants, Hacienda's furniture Park & Pickering (Graeme Park & Mike Pickering) with of course Buckley plus more Leeds talent another local name whose been around the block Harker with UYR & Cream to name but a few.