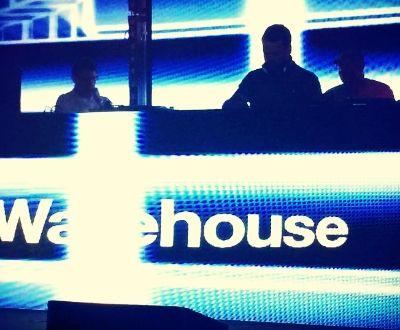 Mark Alexander as far back as 1987/'88, he was attending The Hacienda, along with many more of the Leeds contingency happily welcomed by the like's of Bez, Shaun Ryder amongst others well known throughout the Manchester lads. This molded an alliance which lead to many meeting places outside the well renowned FAC51 club. Many Warehouse Party's were cropping up left right & center, which took this further afield into the huge outdoor illegal Raves within the North. To name but a few of the indoor party's were Kitchens in Hulme, Point Saline Cafe Bar aka The Sweat Box on Chapel Hill in Huddersfield, Red Parrott in Blackburn (Sett End), most of the bars down Newquay ie: Steamers, Sailors & The Boujy, plus the police no go area of Chapletown with Twighlight Zone, Skippy's then Sunny's whilst the club scene was more like Manchester's Spectrum & Thunderdome, News nightclub pre Hi-Flyers and of course just around the corner Leeds Warehouse, this growth by now was 1989.
However the whole scene in & around the Leeds area seemed to generate ideas in the bedroom with vinyl bought from Eastern Bloc & Spinn Inn Disc, other than Mikey Luton aka Mikey Twighlight & Ian Dewhirst. By the way the stores in Manchester are where real mackoy in bulk could be bought therefore could supply in the collectors their choice desired box fulls of quality imports & white label's, unless you was Graham Dixon, fixed up & kitted out contact wise from the mid eighties with his records Shaun aka Gouldy on the other hand was having a twirl at making tracks, threw towel in & became the first to craft the art of beat matching from the actual Leeds tight circle of 30 to 50 cool heads donning their space in The Hac, he soon packed DJaying in too, to become a vinyl pusher thus opening his shop under the name Trax Records, where soon Mark would end up lending along with his partner in crime at that spinning time, Farrar aka Faz their helpful hand's helping Gouldy out with demand of customers catching on soon of the Leeds Bridge Record Store providing choice tunes in bulk.

In the meantime around Spring of 1989 a promoter at a Keighley club called Vicky's asked Micky Reilly & Mick Craddock to try pull in a DJ with a full on modern collection, that's when the call was put to Mark to take a leap from the bedroom into the club environment.
Enter Farrar: So Mark asked his close friend Steven Farrar who was as enthusiastic as him about the tunes & the whole feel of trying to get them out there, heard & most of all enjoyed, so an whole atmosphere was taken to another level lead by 'us all' not the club owners with door politics, So in pop's an army of lads & lasses creating electrifying euphoria. So having decided too call themselves 'Mark & Farrar' a 350 capacity club week in week out every Friday was rammed to the rafters, people dancing on pool tables, chairs, anything possible to dance on it was taken to be a dance spot for a good 5 hours 9pm until 2am, the whole scene was magical and all in around about way un prepared for and most certainly a rare one off atmosphere found inside a club. Hacienda & Sett End were only others at that height of euphoric moment's which didn't last forever in fact it didn't last for no longer than 3 to 4 months.

It all went pear shape, or Pete Tong an unknown then was certainly fitting for the short term love of a club that was 'very unique', it ball came about when one night a crowd of of Leeds pal's plus Mark & Faz turned up to find a note on the door saying "the show isn't on tonight", from that Micky managed to get them a spur of the moment 1/2 hour slot at a venue around the corner called 'Dennies', which in due time became their next spot to spin at. All Mark & Faz wanted was to play their brand new tunes, get enough wage to buy more, quite the norm back then & perhaps extra's here & there. Anyway one of which track they was choosing to un declare was Frankie Knuckles 'Your Love' and an experimentation with Kung Fu Fighting, stuff like Everywhere by Fleetwood Mac & Carley Simon's Why had already been pulled off a dream at their previous foundation of DJ booth confidence gaining, all of which went down a storm. Back then it was the acceptable & back then it's what the crowd awaited for in anticipation, week by week at Vicky's. RIP Vicky's!!
So the week later they were now playing at Ricky's in Leeds each Saturday, it weren't long after that, that the politics started to rear it's ugly & greedy head, such as heavy handed bouncers taking liberties on lads who was creating these parties from the off set. So it was finally time for someone to try get it organised...

Enter Tony Hannon an Hac & Blackburn regular!! Mark, Farrar & Tony Hannon knocked heads and came up with a night called Kaos. The rest is history supposedly & so is the politic's.
Mark & Farrar went on to become big names via the brand which essentially was the first comparison to Manchester's Hacienda. They even went on to play The Hac & Tolerence in Bradford becoming a regular feature for them from there on...
Mark & Farrar eventually & respectfully took their separate paths, Mark retiring early/mid nineties from the music scene. Until he was called upon to play the 2008 Kaos Reunion at Rio's near Christmas. Although Mark lays very unique diverse set's down his most musical creative passion lies within mixing alternative sets... Going onto create some impressive series of 'Cosmic Pop' and a 'Balearic' collection... Which are quite hard to come by but ahead of their time although, 50's/60's & 70's right through to beyond 2010...
The above picture is of Mark playing 'Made In Leeds Fest 2015'. After Shine was approached to provide a line up to lend support to Steve Lawler in The Warehouse tent. With that & the limited budget which was on offer for Micky to play with for a presentation of Shine, so thinking out of the box but sussing a gem bill left him asking Gez Varley to make a classic LFO headline return after what was probably at least two decades since LFO was out there making their waves with their Warp Records effort too.
So the line up Shine HQ put forward was an LFO DJ Set, supported by Shine Birthday DJ on a regular basis Justin Robertson alongside the Residents for Shine warming up, which were Mark Alexander, Mark Holliday & Garry Dabill took to spinning their bit at MILF.